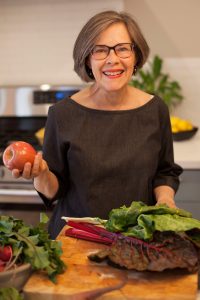 Life is too short and the days too long not to feel as well as your possibly can.
I say that now, but in the past, I would have ignored warning signs, put a Band-Aid on my issue and strode ahead. Feeling crappy was not going to interfere with my life. I simply did not understand that eczema, dry skin, brittle nails, constipation, anxiety, depression, high blood pressure, the list goes on…were all signs of something larger. Nor did it ever occur to me that my diet and lifestyle were playing a major role in my issues.
Around the time our black lab, Gracie, started having panic attacks. We quickly discovered she was intolerant to all store-bought dog food – even the cleanest food would set her off. Her vet suggested a list of whole foods to help her heal and so we started cooking all of her food. She improved within a week and was full of life until she passed at the age of 16. Our friends would say, "Everyone should eat like Gracie" and they were right: quality, whole foods, cooked simply, eaten daily. Hmm…we were on to something.
After spending more than twenty years working in the advertising and marketing industries, I knew I needed a change. I went back to school and earned a Certificate in Holistic Nutrition from Bauman College and then a Master's of Science in Applied Nutrition from Canisius College.
I live in Oakland, CA with my husband Chris and our kitties, Riley and George (Gracie's best friends who have forgotten they were ever feral).
How I can help you: I am a creative problem solver, who really likes to eat and has a passion for helping others help themselves. We start where you are and move forward from there, with maximum flavor and minimal effort in mind. I can teach you how to use nutrition and lifestyle changes to restore your health. For good.
My philosophy: Cook. Breathe. Move. Some days you do more, some less but do these three things every day and you will be healthier and happier than you ever thought you could be.
My mission: Guiding adults over 50 to finally feel better. Does this sound like we are setting the bar too low? I say no. To finally feel better is life changing. If you feel good, life is a little easier, lighter and even richer because you can engage more fully. My mission is to make your second half your best half.
Enjoy 15% off your first session! Use code "Jump start 15" when you book it.